【中国文化 影响世界】--走进国际书画名家周光汉
2019-11-07 15:18:09 来源:新众网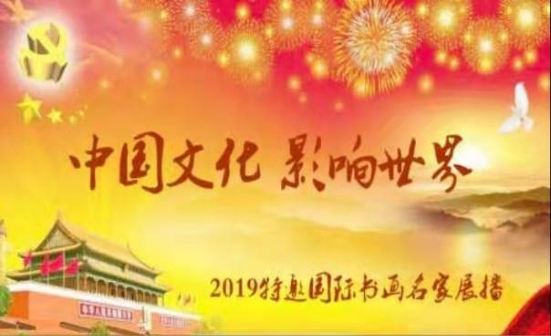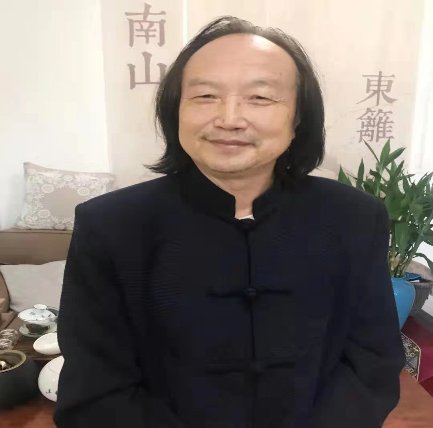 "新时代要有新作为。站在新时代中国国际传播事业的新起点和最前沿,不忘初心、牢记使命,不断开拓对外宣传工作新局面,努力谱写新时代中国故事的壮美篇章,为提升中华文化国际影响力续写新的辉煌。"
"The new era calls for new achievements. Standing at the new starting point and forefront of China's international communication cause in the new era, we should not forget our initial thoughts and missions, keep in mind our mission, constantly open up new prospects for foreign propaganda work, strive to compose a magnificent chapter in the Chinese story of the new era, and continue to write new glories for the enhancement of the international influence of Chinese culture."
周光汉,1950年出生,汉族,祖籍四川省射洪,迁居成都双流、客居北京。
现为:国家一级美术师、现任职中国国画研究院副院长、中国孔子书画院院长,专职画家、联合国美术家协会副主席、世界当代艺术家联合会理事、美国国际文化科学院院士、中国美术家协会会员、中国国画家协会理事、中国包装技术协会会员、中国艺术家协会理事、四川省美术家协会会员、川音成都美术学院客座教授、中国教育电视台《水墨丹青栏目组》《名家讲堂》签约艺术家。
Zhou Guanghan, born in 1950, Han nationality, ancestral home in Shehong, Sichuan Province, moved to Shuangliu, Chengdu, Beijing.
Now he is a national first-class artist, vice president of China Academy of Traditional Chinese Painting and Calligraphy, president of China Confucius Academy of Calligraphy and Painting. a professional painter, Vice-President of the United Nations Artists Association, Member of the Board of Directors of the World Federation of Contemporary Artists Fellow of the American Academy of International Cultural Sciences, Member of the Chinese Artists Association, Director of the Chinese Traditional Painting Association, Member of the Chinese Packaging Technology Association, Director of the Chinese Artists Association, Member of the Sichuan Artists Association, Visiting Professor of the Chengdu Academy of Fine Arts, Sichuan Yin, and Artist of the China Education Television "Ink and Wash Dan Qing Column Group" and "Famous Lecture Hall".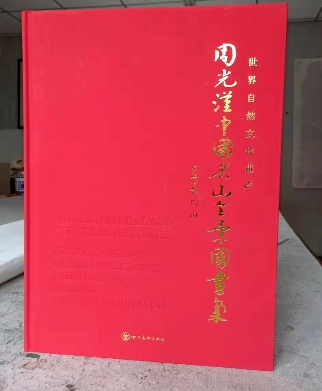 荣获2007年首届中华人民共和国杰出艺术家;中国文艺杰出成就奖;著名美术家等荣誉称号。
艺术成就:自幼喜爱绘画,师承著名国画家孙竹篱先生,后又就读于四川美术学院,受到了著名画家李文信先生等诸多画家、美评家的教导。作品多次参加国内外美展,国内外报刊杂志发表作品五十多件及评介文章。
1992年在四川美院举办了个人画展,该院收藏作品数件。
1993年在成都举办个人画展,96年在马来西亚、吉隆坡举办个人联展。
2004年6月应邀赴日本东京举办"中国名家作品联展"诸多喜爱者纷纷解囊收藏;同年10月在四川省美术馆举办"周光汉国画展"。
2019年,由四川美术出版社出版发行《世界自然文化遗产--周光汉中国名山全录国画集》全国发行。
Won the first outstanding artist of the People's Republic of China in 2007; Outstanding Achievement Award of Chinese Literature and Art; An honorary title, as of a famous artist.
Artistic Achievement: Since childhood, he loved painting and was taught by famous Chinese painter Sun Zhuli, then he studied in Sichuan Academy of Fine Arts, and was taught by famous painter Li Wenxin and many other painters and aesthetic critics. His works have participated in art exhibitions at home and abroad for many times. He has published more than 50 works and commented articles in newspapers and magazines at home and abroad.
In 1992, he held an exhibition of his paintings at Sichuan Academy of Fine Arts, where he collected several pieces of works.
He held a solo exhibition in Chengdu in 1993 and a group exhibition in Kuala Lumpur, Malaysia, in 1996.
In June 2004, he was invited to Tokyo, Japan, to hold the "Chinese Famous Scholars' Works Joint Exhibition". In October of the same year, "Zhou Guanghan's Traditional Chinese Painting Exhibition" was held in Sichuan Fine Arts Museum.
In 2019, the World Natural and Cultural Heritage-A Collection of Chinese Paintings of Zhou Guanghan's Famous Mountains was published by Sichuan Fine Arts Publishing House.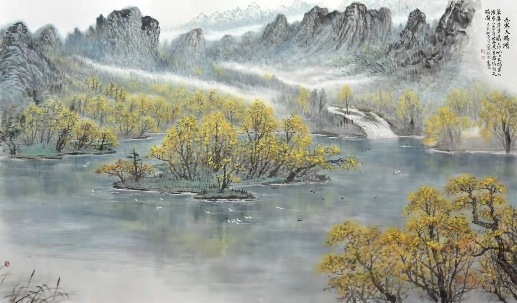 作品1
作品、个人简介入编《跨世纪著名画家经典》《全国著名画家作品选》《中国书画藏典》《全国著名书画家邀请作品展集》《中国当代美术家光盘》《中国丹青画卷》《四川画家小传》丛书。马来西亚出版《周光汉国画艺术选》;世界知识画报专版推荐,并授予"世界华人杰出艺术家";人民日报在文艺版刊登作品及专文介绍,并授予"中国艺苑名家"称号,同时出版中国名家名作《周光汉国画集》,2005年16幅作品入选国家集邮总公司全国发行的"当代中华文化名家专题邮票工程";中国画报、人民画报、经济日报、世界知识画报、国际商报、瞭望周刊等的报刊将本人作品及艺术成就登图撰文重点推荐。4幅红梅图,分别被美国伊鲁大学、中国驻联合国代表团、中国驻美国大使馆、纽约领事馆收藏;在文化部举办的促进海峡两岸和平统一书画交流中成绩显著,并荣获"千年和平金奖"。个人艺术传略及有关事迹编入《中国工程师辞典》《国发明家辞典》《艺术大家》《科学中国人·中国专家人才库》《中国百杰画家》《中华美术大师》《中国美术选》等大典。人民大会堂、中南海、国家博物馆、军事博物馆、美术馆等国家重点文物单位收藏。
Works, personal introduction into the compilation of "cross-century famous painters classic", "national famous painters works", "Chinese painting and calligraphy collection", "national famous painters invited works collection", "Chinese contemporary artists CD", "Chinese red and green paintings", "Sichuan painters biography" series of books. Selected Works of Chinese Painting by Zhou Guanghan published in Malaysia; The World Knowledge Pictorial recommended and awarded "Outstanding Chinese Artist in the World"; The People's Daily published works and special articles on the literary page, and awarded the title of "Famous Artist in China". It also published "Collection of Paintings by Zhou Guanghan", a famous Chinese artist. In 2005, 16 works were selected into the "Special Stamp Project for Famous Artists of Contemporary Chinese Culture" issued by the State Philatelic Corporation. China Pictorial, People's Pictorial, Economic Daily, World Knowledge Pictorial, International Business Daily, Outlook Weekly and other newspapers and periodicals will be my works and artistic achievements published articles recommended. Four pictures of red plum trees were collected by Iru University, the Chinese Mission to the United Nations, the Chinese Embassy in the United States and the Consulate General in New York. He has made remarkable achievements in promoting the peaceful reunification of the two sides of the Taiwan Straits through calligraphy and painting exchanges organized by the Ministry of Culture, and won the "Millennium Peace Gold Award." Personal art biography and related deeds are included in the Dictionary of Chinese Engineers, the Dictionary of National Inventors, the Dictionary of Art Masters, the Scientific Chinese · Chinese Expert Talent Pool, the 100 Excellent Painters of China, the Master of Chinese Fine Arts, the Selected Works of Chinese Fine Arts, and so on. The Great Hall of the People, Zhongnanhai, the National Museum, the Military Museum, the Art Gallery and other key state cultural relic collections.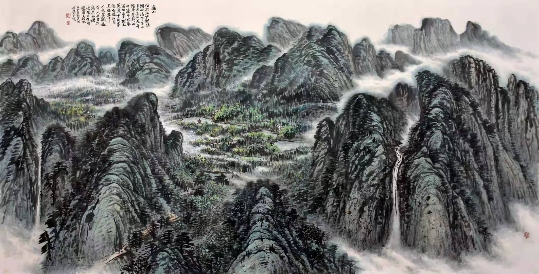 作品2
巨幅山水画《富春山新居图》长68米宽1米,是光汉先生用了两年多时间完成。气势磅礴、气韵贯通、笔墨精妙、内容丰富,堪称上乘精品。天津人美出版专辑全国发行,受到极好赞誉。 光汉先生用三年时间,行程四万多公里对列入世界自然文化遗产的所有中国名山胜景进行艰苦写生研究,并创作出60幅大型山水画。张张精彩感人。在今天中国山水画史上完成此壮举是第一人。此作品已由四川美术出版社大八开精装本出版全国发行。
The giant landscape painting "New Residence in Fuchun Mountain", 68 meters long and 1 meter wide, was completed by Mr. Guanghan in more than two years. Magnificent, charm through, exquisite ink, rich in content, can be said to be excellent quality. Tianjin Renmei has been highly praised for its national release of the album. In a three-year journey of more than 40,000 kilometers, Mr. Guanghan painstakingly painted and studied all the scenic spots of China's famous mountains listed in the World Natural and Cultural Heritage, and created 60 large-scale landscape paintings. Zhang Zhang is wonderful and touching. He is that first person to accomplish this feat in the history of Chinese landscape painting today. This work has been published by Sichuan Fine Arts Publishing House Dabakai hardcover edition of the national distribution.

作品3
周光汉先生五十多个春秋致力于国画创作,热爱生活,深入生活,赋予生活以美的想象。生活是他创作的源泉,创新的根基,他的画有生,有气,有血,有肉,有灵魂,有思想,是表现时代精神的灵气之作。特别是对历代大家、石涛、齐白石、郑板桥的花鸟画、黄宾虹的山水画认真研究,再结合现代人的审美情趣,形成了独特的个人风格;用笔古朴、奔放、雄浑、用墨苍润秀雅,力图表现对大自然关爱和人与自然的高度和谐,创造一种美好的人生精神生活。(此文作品均摘录于《世界自然文化遗产——周光汉中国名山全景国画集》)
Mr. Zhou Guanghan has devoted himself to the creation of traditional Chinese paintings for more than 50 years. He loves life deeply and gives life a beautiful imagination. Life is the source of his creation, the foundation of innovation, his paintings have life, gas, blood, flesh, soul, thought, is the expression of the spirit of the times. Especially for all previous dynasties, Shi Tao, Qi Baishi, Zheng Banqiao's flower and bird paintings, Huang Binhong's landscape paintings, combined with the aesthetic taste of modern people, formed a unique personal style; With the simple, bold, vigorous pen, with the ink Cang Run elegant, trying to show love for nature and the high degree of harmony between man and nature, to create a better spiritual life. (This article is excerpted from the World Natural and Cultural Heritage-A Collection of Panoramic Chinese Paintings of Zhou Guanghan's Famous Mountains.)
作品赏析: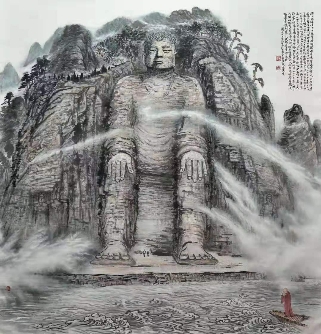 作品4

作品5

作品6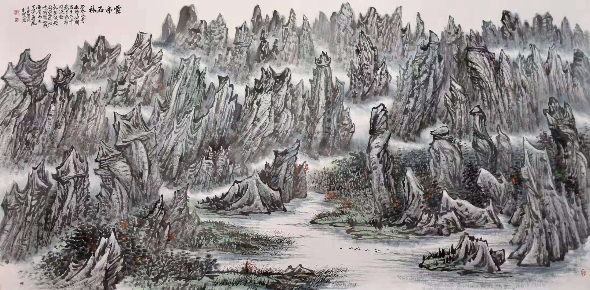 作品7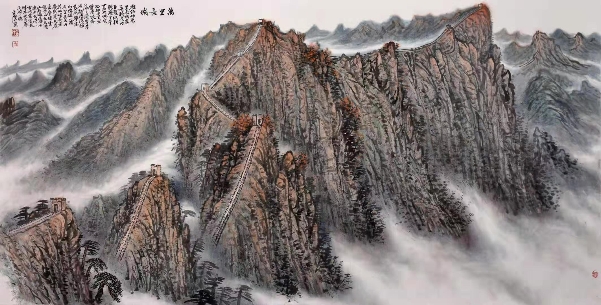 作品8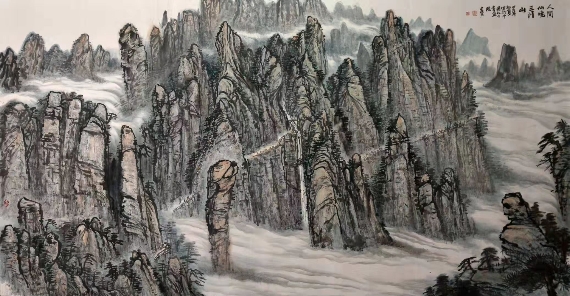 作品9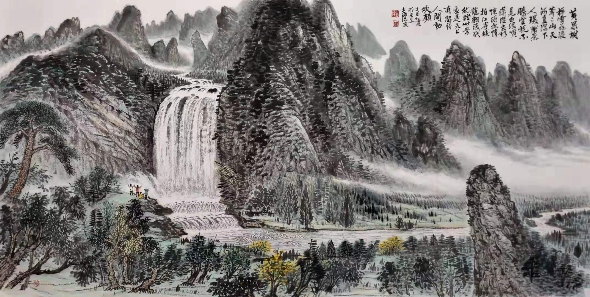 作品10

作品11

作品12

作品13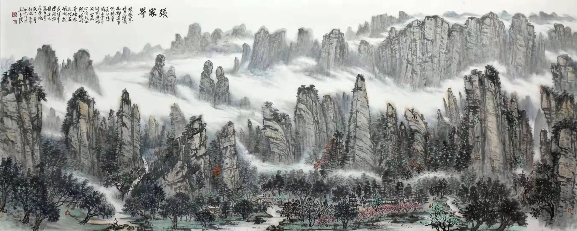 作品14
本平台所发布信息的内容和准确性由提供消息的原单位或组织独立承担完全责任!
收藏
是否将当前网页翻译成中文
网页翻译
中英对照
参与评论